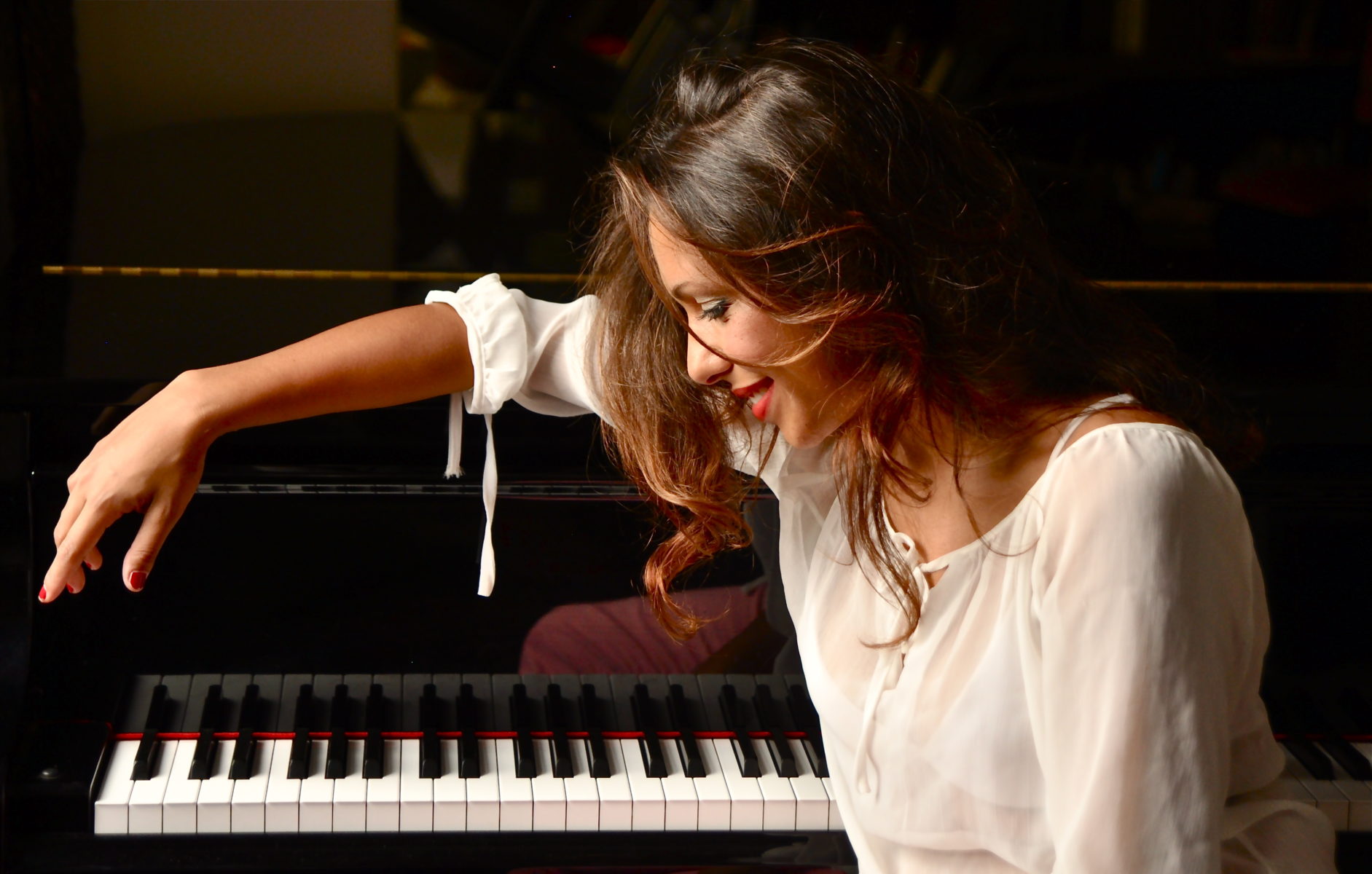 Born in Cairns, Australia in 1977, Ambre began piano studies at the age of 3. She undertook her first Australian Music Examinations Board (AMEB) examination (Preliminary Grade) at the age of 4 and gave her first public concert at the age of 5.
At the age of 11, Ambre achieved a world record by being the youngest person ever to complete the AMEB Associate Diploma (A.Mus.A) and Licentiate Diploma
(L.Mus.A) (both completed in the same year). She still holds this record.  The following year, at the age of 12, Ambre recorded and released her first album titled "Ambre Hammond – Chopin, Beethoven, Liszt".
At the age of 16, Ambre received the First Prize in her first international music competition, held in Cordoba, Argentina. The following year Ambre was invited to return to Argentina, where she performed Rachmaninoff's Piano Concerto No. 3 with symphony orchestra – widely regarded as one of the most technically challenging piano concertos in the classical repertoire.
This performance was recorded live and released as an album titled "Rachmaninoff Concerto No. 3", which has been acclaimed by the Rachmaninoff Society of USA and received the admiration of Rachmaninoff's family. As a result, Ambre was invited to perform at Rachmaninoff's birthplace in Novgorod, Russia.
Also at the age of 16, Ambre recorded and released an album of music by Franz Liszt titled "Devotion". This album was funded and supported by Australian artist, Arthur Boyd, who invited her to be the first Artist-In Residence at his Shoalhaven Property 'Bundanon' on the New South Wales South Coast.
Since then, Ambre has gone on to record and release a further four albums, including the best-selling "Reverie" (which has sold over 15,000 copies to date) and "Oblivion", a collaboration with accordion virtuoso Marcello Maio, featuring the music of Argentine composer Astor Piazzolla.
Ambre's most recent album "Night Flowers" (released 2018) is a suite of cinematic style short solo piano pieces inspired by the photography of James O'Toole.
In 2019, Ambre will again collaborate with Marcello Maio to record her 8th studio album, featuring the music of Brazilian composer, Antonio Carlos Jobim.
Ambre has received critical acclaim as a performer of not only classical repertoire, but also of jazz and blues, having collaborated on numerous occasions with jazz legend, James Morrison, to create a fusion of musical styles.
In 2006, Grammy Award and Honorary Oscar winning Hollywood film composer, Lalo Schifrin, composed a unique Double Concerto for Jazz Trumpet, Classical Piano and Symphony Orchestra, especially for Ambre and James Morrison. This was premiered by Ambre and James with the Sydney Symphony Orchestra at the Sydney Opera House, conducted by Lalo Schifrin.
Ambre has performed solo and with acclaimed orchestras, throughout Australia and internationally. Her performances have received critical acclaim internationally, in Switzerland, England, Italy, Spain, Poland, North and South America, New Zealand, Tahiti, Fiji, Japan, Alaska and China.
In response to her international success, Ambre has been driven by a desire to give back to the community wherever the opportunity arises. She has served in a number of ambassadorial roles, including as Ambassador of the Brain Foundation of Australia, Ambassador of the National Trust, and Ambassador of the Peace Program for the United Nations Association of Australia.
In 2013, Ambre created a humanitarian initiative called GIRL PIANO TRUCK, which aims to transform the lives of people in remote and disadvantaged communities by giving free concerts in schools and orphanages, and providing inspiration through music.
Ambre launched GIRL PIANO TRUCK in India, where she gave a number of performances, including at an orphanage in New Delhi, and conducted a workshop for teachers at a music college in Mumbai.
Since then, Ambre has taken GIRL PIANO TRUCK to remote and disadvantaged communities around the world, including in Thailand, East Timor, Belarus, the Philippines (where she performed 20 concerts in 12 days throughout Manila, Cebu, Bohol and Tacloban) and Tanzania (which was the subject of a short film documentary).
In 2019 and 2020, Ambre will take GIRL PIANO TRUCK to remote and disadvantaged communities throughout Outback Australia.
Ambre's humanitarian work has received widespread praise and recognition. In 2016 she received a nomination for Australian of the Year.
In light of her accomplishments and unique experience, Ambre is in constant demand as a keynote speaker and motivational guest speaker, presenting at conferences, clubs and corporate events throughout Australia and overseas.