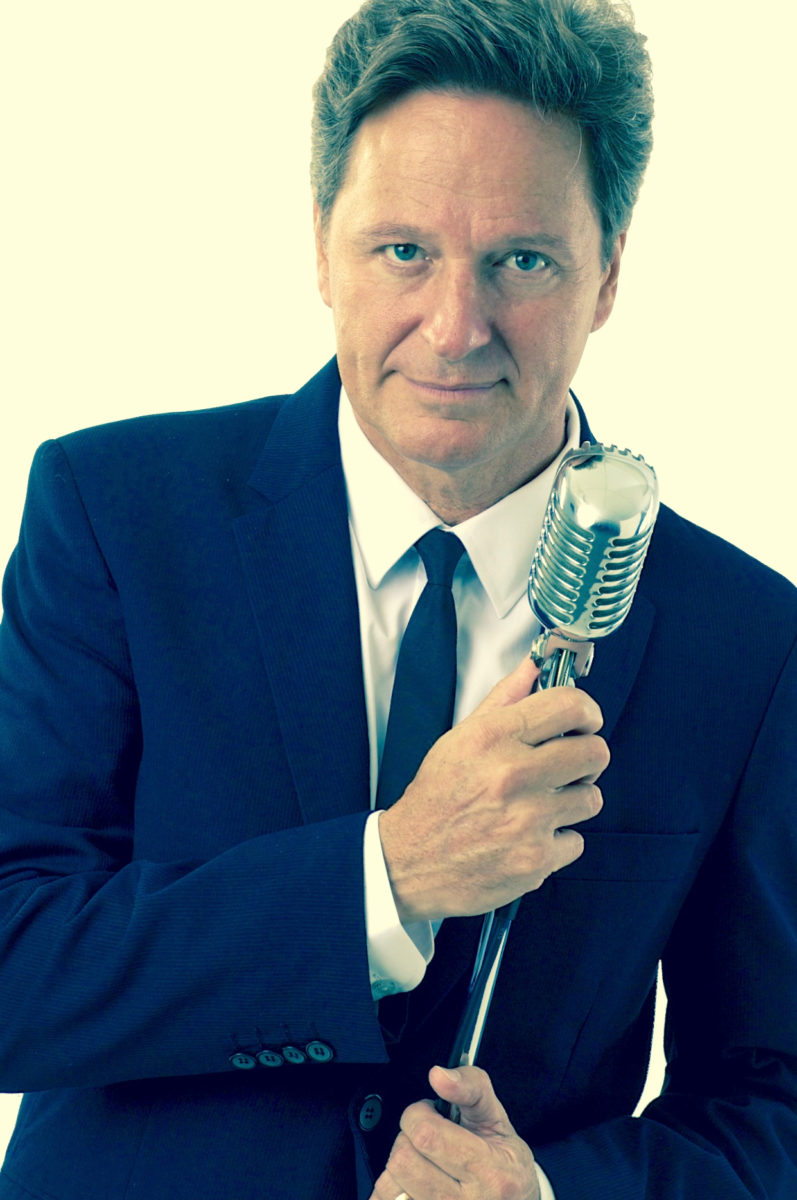 Chris was born in Melbourne and at the age of 8 gained a vocal scholarship to attend Christ Church Grammar School. He became head chorister. At the age of 10 the family moved to Fiji where he joined a multi-cultural choir and learnt much about harmonies.
His professional singing career began in the 1970s as lead singer of the touring band SKINTITE. In the 80s Chris fronted the jazz/rock outfit BIG RED who were signed to Mercury/Polygram and released the top 10 hit 'The Traveller'. They appeared on the TV shows Countdown, Sounds and Simon Townsend's Wonder World among others.
Chris moved to Los Angeles in 1986 where he remained for 2 years writing songs and recorded at Pasha Studios, Studio West, Salty Dog Studios and Herbie Hancock's private studio in Hollywood.
On returning to Sydney, Chris became one of the country's busiest session singers and one of the most heard voices on Australian radio and TV. He also sang the theme songs 'Carry On' and 'Runaway' for the TV series 'The Henderson Kids' which starred a young Kylie Minogue.
Chris signed to Mega/Sony records with producer Robie Porter in the 90s and released the stirring duet 'Sometimes When We Touch' with Laurin James (Lori Balmer). A second single, 'It's Driving Me Crazy' was also released on this label.
In 1995 Chris achieved success in Malaysia with his first solo album 'Caught in the Magic' released through Pony Canyon Records. His single off the album 'Forever' went to number 5 in Kuala Lumpur. Available on iTunes.
Chris became a regular face on Australian TV and appeared on Ernie and Denise's In Melbourne/Sydney/Brisbane Today, The Midday Show with Ray Martin, Good Morning Australia with Bert Newton and The Don Lane Show.
Chris was asked to audition for the TV Soap Neighbours and was thrilled when he won the role of Rod Baker, Natalie Imbruglia's fiancé, for three months. They also appeared together on the cover of the British 'Woman's Own' magazine.
In 2011 Chris released 'So Good So Far' with guitarist and composer Art Phillips who was MD for both Barry Manilow and Demis Roussos for a number of years. The 10 standards and 2 original songs were recorded live in the studio in the same way Perry Como and Tony Mottola had done in the 1960s. Available on iTunes.
In 2013 Chris's 3rd album, 'Chris Lloyds Sings Matt Monro', was released on Fanfare Records through Ambition/Universal Music. He appeared on TV and radio to promote it. Australia's most popular talkback presenter, Alan Jones, named it album of the week in April of that year. Available on iTunes.
In 2016 Chris Lloyds and Art Phillips released an acoustic swing version of 'Forever and Ever' as a tribute to Demis Roussos. Available on iTunes.
Chris hosted "Mornings in the Arena" a monthly show at the Reef Hotel Casino in Cairns, Queensland, Australia for 7 years.
Chris currently performs his "The Hits of the Crooners" Show around the country. In March 2018 he performed the show to a full house at the Queensland Performing Arts Centre QPAC in Brisbane with the 30 piece Australian Session  Orchestra conducted by George Ellis.
Other highlights in Chris's career have been: Performing on the same bill as international acts Blondie, Joe Cocker, José Feliciano and Meatloaf and many other chart topping Australian bands; performed as a member of Dr Hook, Birtles, Shorrock, Goble, (LRB) and toured with 'Long Way To The Top'; performing a simulcast jazz version of 'I Still Call Australia Home' at Sydney's Darling Harbour on Australia Day for HRH Prince Charles and thousands of revelers, and performing for Prime Ministers and the G20 Finance Ministers. Recorded in Nashville in 2018.