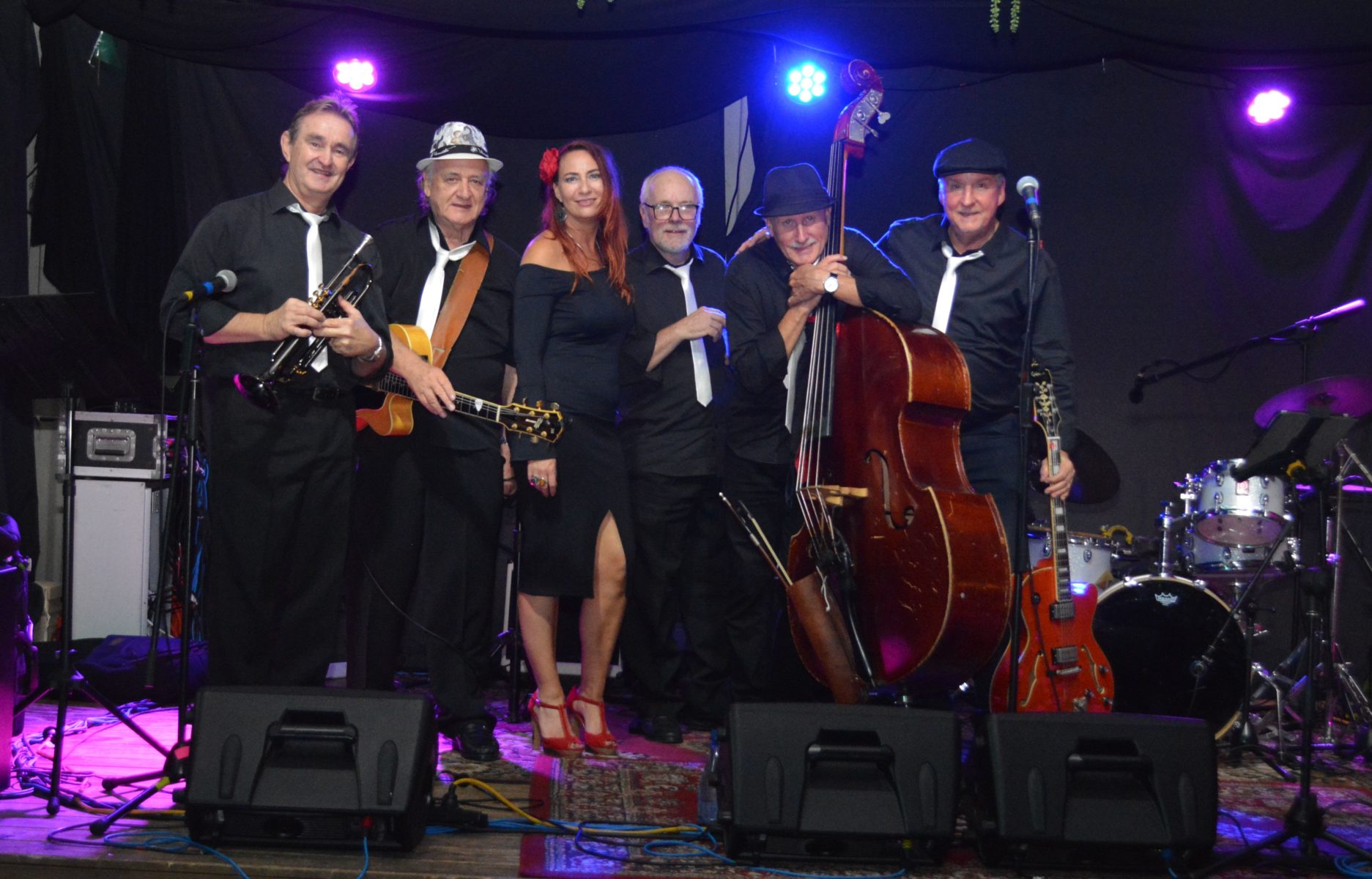 Nicole Parker-Brown has been surrounded by music since she was born and has been singing Jazz and Blues most of her life.  She has travelled extensively in Europe and the UK following the jazz and blues scene and returned home to the Gold Coast where she has made her mark with her "KitschyBluesyJazzyGroovy" style.
Her repertoire is inspired by Nina Simone, Bessi Smith, Diana Krall and Ella Fitzgerald and many other legendary ladies of Jazz and Blues. She has performed at many venues with greats such as the late Wiley Reed and has written and recorded many of her own songs.
Peter Uppman's multi award-winning style is instantly recognisable, receiving accolade after accolade for his work as a world-class trumpeter, singer, songwriter and entertainer.   A professional performer of more than 30 years, Peter has a massive repertoire encompassing all styles of jazz, rock, pop, country and Latin. He also possesses the unique ability to communicate with his audiences, utilising humour combined with superb musicianship.
Having worked with dozens of internationally renowned artists, Peter has also been featured many times on national television, radio and media publications, with several of his albums selling via major outlets worldwide. 
Gordon Matheson arrived in Australia from Glasgow at the age of 10 and started strumming the guitar at 12.  He began formal study at 14 with Trinity College London (based in Melbourne) and then continued with Pearl Rawlings where after 5 years he was offered a teaching position.  He also studied with jazz guitarist Bruce Clarke (from Fascinating Rhythm – on TV) and took over his Berklee Ensemble Reading Classes for Guitarist.
Gordon's reputation as a gifted and talented guitarist launched a career which has spanned over 50 years performing with world class acts such as The Seekers, Liza Minnelli, Peter Allen, John Farnham, Tina Arena, Winifred Atwell and many others.
Mark Nahuysen is a Brisbane based guitarist and composer, has been active in music for more than 40 years. His guitar and musical experience is wide and varied, playing and writing styles from jazz to classical, country and bluegrass. Mark is also a writer and has written two full scale stage musicals, and also collaborated with his twin brother Peter on two other stage musicals which have been performed multiple times by major High Schools. He played guitar and banjo in numerous stage productions, such as "Bye Bye Birdie", "Oklahoma!" and "High School Musical".
Mark has also written and performed music for ABC Television, most notably the theme music (co-written with Peter) for the iconic ABC rural affairs program, "Landline".  In recent years, Mark has recorded a series of guitar instrumental albums.
John Conley was born in Melbourne, and moved to Canberra where he studied classical guitar and played the double bass in the Canberra Youth Orchestra. In the early 70's he studied at the NSW Conservatorium of Music in the newly established Jazz Studies program with Don Burrows and George Golla.  John has played and recorded with many bands during this period including Winnifred Atwell, The Four Kinsmen, Errol Buddle and Col Nolan.
In 1981 John became a member of the well-known Jazz Band Galapagos Duck and toured and recorded extensively with this band and is still a member. His extensive writing for the band includes the ballet 'Austorizon' for the Australian Dance Theatre and four songs nominated in the Jazz category of the APRA awards.  In 2000 John returned to the Conservatorium to study and received an honours degree in composition in 2004.
Rodney Ford began his musical studies with the Trombone and Trumpet at school playing in wind ensembles at the Sydney Conservatorium of Music whilst taking lessons.  After school he joined the Army band on the trumpet and continued with his Conservatorium studies.  At the age of 20 Rodney changed to the clarinet in the Army Band, and a casual interest in drums became a serious study as he held down the drum chair in the 'Con Big Band ' and Jazz ensembles affiliated with the Jazz studies program at the Conservatorium.
After leaving the Army band the drum kit became Rodney's primary instrument and his affinity with this instrument lead to engagements with the theatre producers JC Williamson's. Rodney played drums for 'The Wiz', 'Man of La Mancha' and 'Chorus Line' among others.  Rodney is also a member of the well-known Jazz Band Galapagos Duck and toured and recorded extensively with this band.