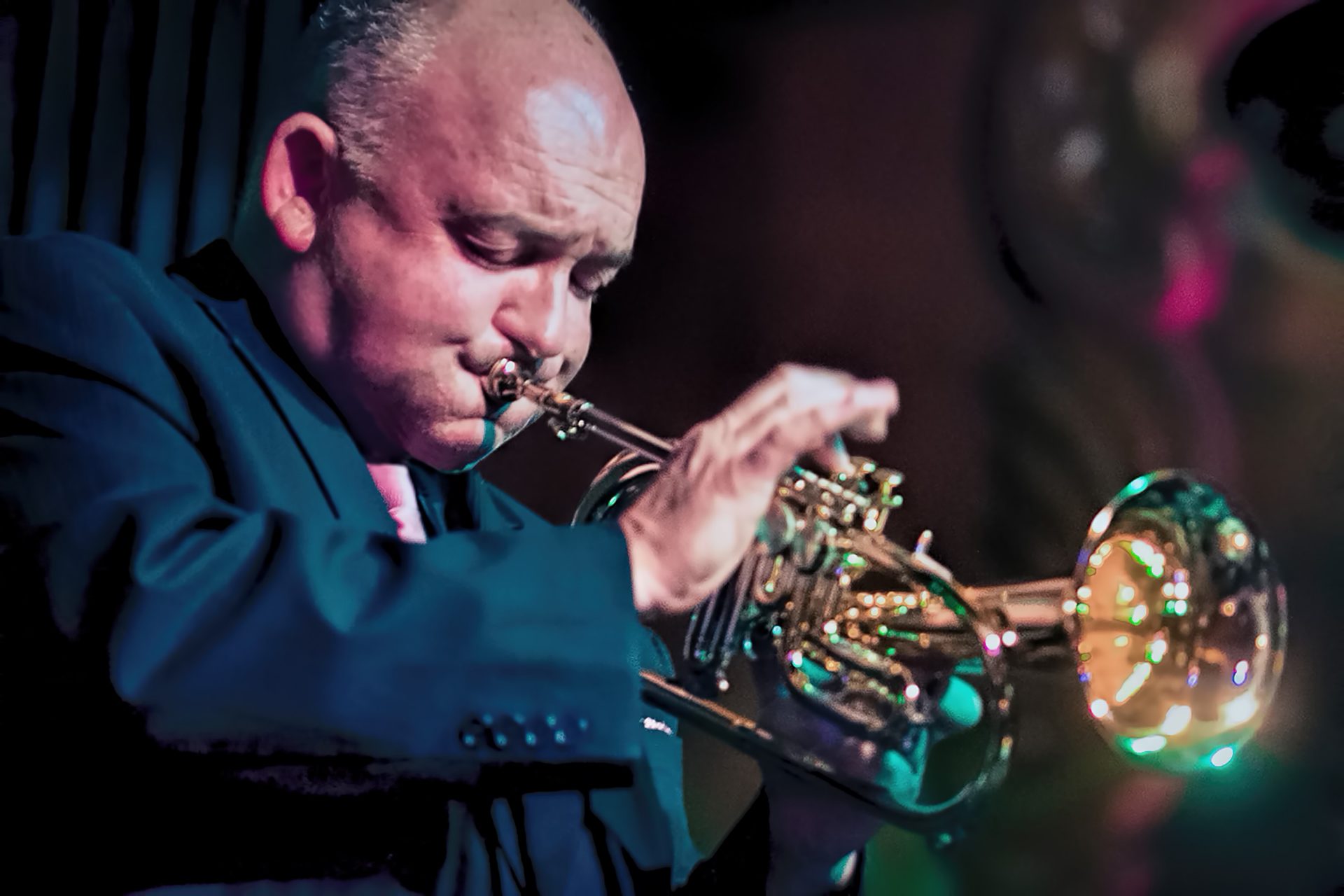 The name "James Morrison" is known throughout the world for his sheer brilliance as a jazz musician and an all round entertainer. He is constantly on the move, touring everywhere and anywhere fine music has an audience. His recordings are best sellers and James works with the cream of the world's best performers. Ray Brown called him "The Genius" and Dizzy Gillespie called him "One of The Best" but Wynton Marsalis summed it up: "Man, James Morrison can play!"
 James Morrison is, by anybody's standard, a virtuoso in the true sense of the word. Besides the trumpet, this multi-instrumentalist also plays piano, all the brass, saxophones, and double bass.
At the age of seven, he was given his first instrument, at nine he formed his first band and at thirteen he was playing professionally in nightclubs. His international career developed just as quickly. At age sixteen James debuted in the USA with a breathtaking concert at the Monterey Jazz Festival.
Following this were performances at the big festivals in Europe including Montreux, Pori, North Sea, Nice and Bern – playing with many of the legends of jazz. Dizzy Gillespie, Cab Calloway, Woody Shaw, Red Rodney, George Benson, Ray Charles, B.B. King, Ray Brown and Wynton Marsalis to name a few. There were also gigs in the world's most famous jazz clubs – The Blue Note and Village Vanguard in New York, the New Morning in Paris, The Tokyo Blue Note and Ronnie Scott's in London.
Now 55, James Morrison's career thus far has been diverse and perhaps not typical of most jazz musicians. He recorded Jazz Meets the Symphony with The London Symphony Orchestra conducted by Lalo Schifrin, performed concerts at the Royal Albert Hall with the London Philharmonic Orchestra and at the Royal Opera House, Covent Garden for Princess Anne. Royal command performances on two occasions for Her Majesty Queen Elizabeth II and for US Presidents Bush & Clinton at Parliament House in Australia. On International Jazz Day 2016, James was a guest of President Obama and First Lady Michelle Obama at the White House. James has performed his own Concerto with the Tonkünstler Orchestra at the Musikverein in Vienna and has appeared as a guest with the Berlin Philharmonic, the Czech National Symphony Orchestra at the Prague Proms and many of the world's major orchestras.
In 2018, James's activities include a return performance to the legendary Bern Jazz Festival in Switzerland, The New Zealand International Jazz and Blues Festival, the Melbourne International Jazz Festival and a as special guest at UNESCO International Jazz Day at the Mariinsky Theatre in St Petersburg. James and his new quartet will embark on an Australian jazz club tour to promote their debut album "Midnight Till Dawn" as well as tour the United States and Europe (Austria, Ireland, Portugal and the UK). In London, James will present a 4-part documentary series "Top Brass" for the BBC. James will  also appear in the 2018 seasons of the West Australian Symphony Orchestra and the Auckland Philharmonic Orchestra.
2017 highlights included a world premier of a jazz concerto written specially for James by Gordon Goodwin on International Jazz Day, a debut at the BBC Proms in London alongside Dianne Reeves, return performances at Jazz at Lincoln Center, Ronnie Scott's and the Jazz Cruise, a debut at The Green Mill in Chicago, headline appearances at Melbourne International Jazz Festival, Canberra International Music Festival, Oslo Jazz Festival, Vail Jazz Festival Colorado and Grahamstown International Music Festival South Africa, an Australian tour with Grammy Award winning diva Patti Austin and featured appearances at the Sydney Opera House for Australia Day and the Australian Embassy in Washington DC for the Presidential Inauguration. 2017 recording releases included a recording of the Great American Songbook at Abbey Road Studios with the BBC Concert Orchestra. James also continues his education work with appearances in New Orleans at the Jazz Educator's Network Conference and workshops at the Juilliard School, the Thelonious Monk Institute and University of North Texas's One O'Clock Lab Band.
Highlights of 2016 included a recording at Abbey Road Studios with the BBC Concert Orchestra for international release, sold out performances at the Prague Proms, Berlin Philhamonie, Budapest Music Centre and the Lionel Hampton Club in Paris, two sell-out return performances at Ronnie Scott's Jazz Club in London, two Australian tours, two European tours, a season with the Sydney Symphony Orchestra, a hugely successful solo tour all over the USA including the Miami Beach Jazz Festival, the Newport Beach Jazz Party, performances with John Clayton, Jeff Hamilton and the One O'Clock Lab Band and, of course, International Jazz Day at the White House with the President of the United States.
Other career highlights include performing at the Hollywood Bowl with Dave Brubeck and guesting with artists as diverse as Phil Collins, Chaka Khan and rock legends INXS. In 2000, James composed and performed the opening fanfare for the Olympic Games in Sydney. James was also the artistic advisor to the Sydney Symphony's "Kaleidoscope" series, which has included performances by Chick Corea, Dianne Reeves, Gary Burton and Kristjan Jarvi.
He spends much time in education, doing master classes and workshops in many countries and presenting the James Morrison Jazz Scholarship at the world's largest youth jazz festival Generations in Jazz. An avid user of the latest technologies, James is very involved in furthering the presence of jazz and music education on the Internet and also uses cutting edge tech extensively in his writing, recording and performances.
When not writing film scores, composing or serving as patron of some of Australia's major music institutions, James relaxes in some fairly unconventional ways for a musician – flying his private plane or driving in a rally championship. His love of cars is well known as he was a host on the TV program Top Gear Australia.
In a recording career spanning 3 decades, James has released a huge variety of albums from gospel to big band to electronic fusion. Nominated for seven ARIA Awards, James won his first ARIA in 2010 and again in 2017. In 2013, James was inducted into the Australian Jazz Hall of Fame. In 2016, James's disc "In Good Company" charted simultaneously in both the ARIA Jazz and Popular Album Charts, remaining at No 1 in the Jazz charts for over 20 weeks. James currently records for ABC Jazz/Universal and Fanfare Jazz and is an exclusive artist for Schagerl Instruments. He is also a proud Friend of the Brand for Mercedes Benz and Brand Ambassador for Oris Swiss Watches.
In 2012 James was appointed Artistic Director of the Queensland Music Festival, a state-wide music initiative whose vision is to "transform lives through unforgettable musical experiences." As part of the festival, in 2013 James conducted the World's Largest Orchestra, breaking a Guinness World Record with 7,224 musicians at Brisbane's Suncorp Stadium. In 2014 James presented 'A Tribute to Oscar Peterson' at the Edinburgh Jazz Festival as part of the Commonwealth Games celebrations.
James has been recognized for his service to the arts in Australia by being appointed a member of The Order of Australia with particular mention of his contribution to music education. He is a Doctor of the University at Queensland Conservatorium of Music and has received a Doctor of Music from the Edith Cowan University Western Australia and the University of Adelaide. He is also an Adjunct Professor at the University of South Australia and Vice-Chancellor's Professorial Fellow.
The latest chapter in his diverse career sees James in Mount Gambier, South Australia, establishing the James Morrison Academy of Music, an innovative school dedicated to teaching jazz and offering a Bachelor Degree in Music. This exciting initiative involves educators from all over the world, transforming young musicians' lives with inspiration and a love of jazz. In 2017, the JMA will partner with The Juilliard School in New York City to offer an exclusive Honours Program.
With interests so broad and a career so filled with highlights it seems that James Morrison must have done just about everything he could want to do – but not so…
When asked, "What is there left to do?" James' reply is typically "This is just the warm up!"
Let me know about special deals and offers
Be the first to know whenever we run a special deal or promotion by signing up below