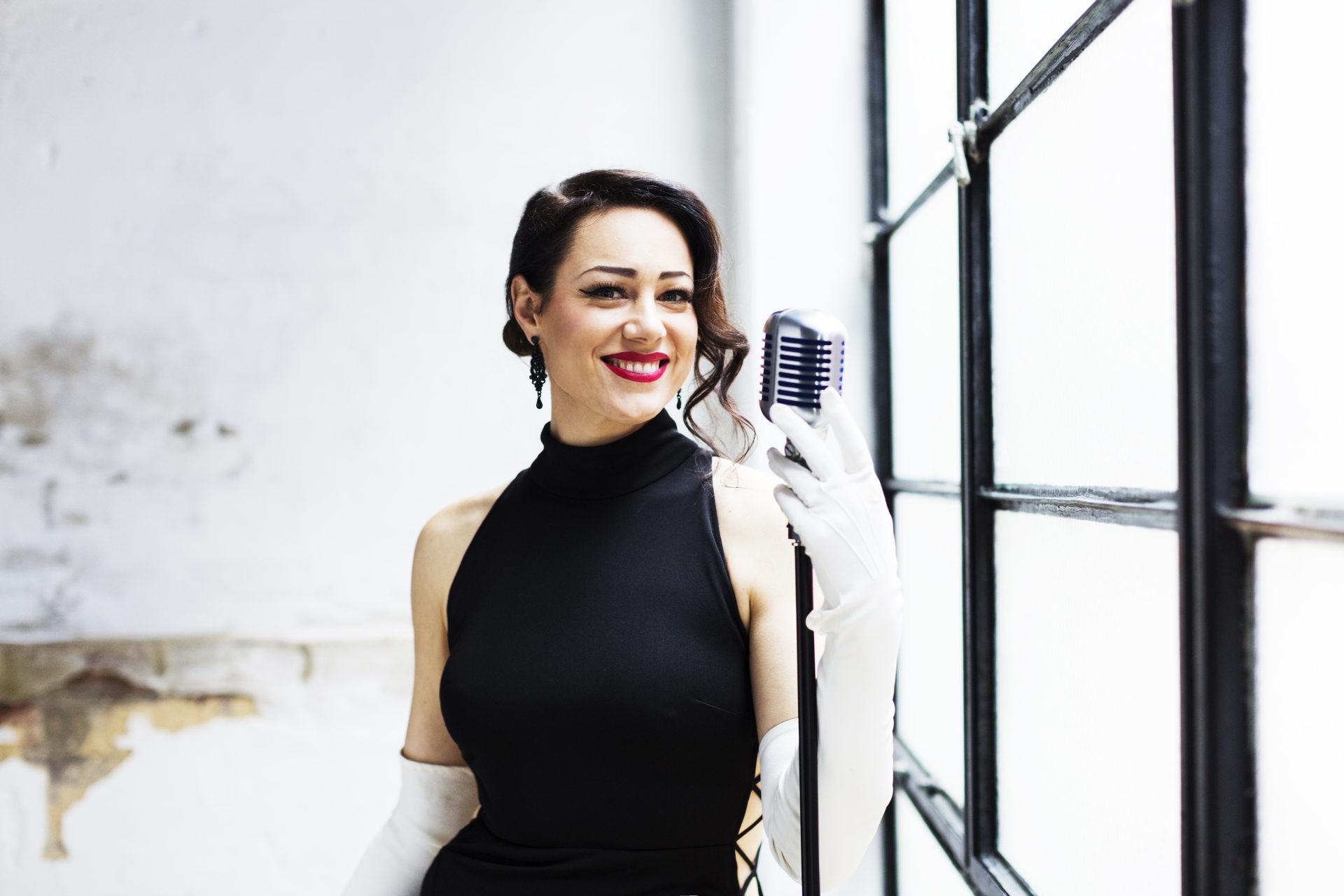 "You've got it girl!" – a throw-away comment made recently by a celebrity music manager to jazz performer Cathrine Summers is another step on the stairway to success for the local girl from Perth. And with the latest release of her 2018 second album Ella, Dinah, Anita – The Queens of Jazz, Blues and Swing, Cathrine's journey is set to go even further.
Described as a cross between Dinah Washington and Anita O'Day, with a splash of Ella Fitzgerald, the UK-born vocalist Cathrine Summers is acclaimed for her rich timbre and broad vocal range. She's also known for her 'instantly familiar' candour, often weaving tid-bits of rich musical history from bygone eras into her performances.
Summers' has a uniquely versatile tone that delivers warmth with a soft, floaty quality, as well as a raspy, deep and bluesy sound. Plus, her undeniable on-stage charisma and playful banter gives her audiences a passion for jazz that transcends eras with a fun and mischievous candour.
If you enjoy soaking up the sounds of up-tempo and lively swing classics, or sinking deeply into dulcet emotive ballads such as Cry Me A River, Stormy Weather and As Time Goes By, Cathrine is someone not to be missed. Or, perhaps you want to tap along to Vintage Hollywood Jazz hits such as Anything Goes, Top Hat White Tie & Tails, or Mack The Knife. Or, if you want to step into a Parisian Jazz Club with Edith Piaf's Non, Je Ne Regrette Rien, or the infamous Sous Le Ciel De Paris, then look no further.
Since her 2008 debut, Cathrine Summers has lit up many events, festivals, high profile galas and regularly performs nationally and internationally. She's a resident sell-out artist at local Perth and Melbourne jazz clubs, and has featured in revered festivals like, BRAVO! Cruise of the Performing Arts, Perth International Festival, Jazz By The Bay, sell-out seasons in Fringe World Festival 15, 16, 17 & 18, City of Perth New Years, Kings Park Festival and many more.
Here's what the experts are saying;
"The quality that sets her apart from other singers is that people of all ages feel 'instantly familiar' with her and soak up her banter and on-stage charisma." The Music Review.
" She's got style, she's got flair, she's definitely got talent – and an amazing magical stage presence, so much so, that on Saturday afternoon I was transported into some deep, dark roaring '20s club. Her exquisite and perfect French accent shone as she belted out Edith Piaf's 'Non, Je Ne Regret Rein' – her performance of such an iconic song was incredibly moving. From Parisian jazz to modern swing uptempo – with a great twist on Adele's Rolling in Deep – Summers' charismatic engagement with the audience is exhilarating." Nicola Heyes – Giggysound.com
"With incredible vocal range, tender sense of comedy and comforting stage presence, it is as if the audience has known her for years. Cole Porter, once said, 'I wanted every kind of love that was available, but I could never find them in the same person.' Yet in the beautiful and talented Cotton Club singer, all these forms of love seem to coalesce." Perri Watson, Buzzcuts
Let me know about special deals and offers
Be the first to know whenever we run a special deal or promotion by signing up below