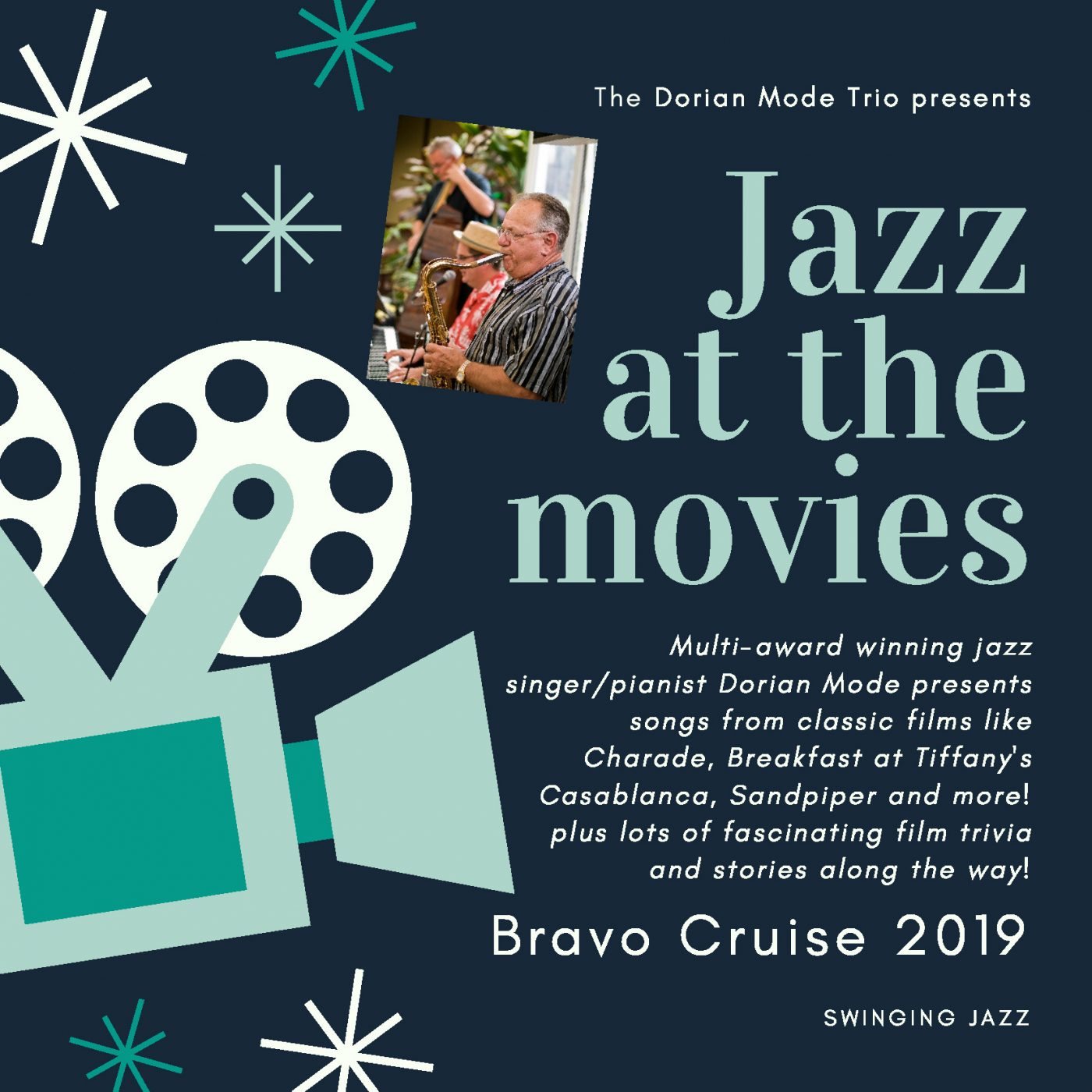 Did you know many of the great jazz standards were first heard in the cinema? Moreover, many of these great songs not only won Academy Awards but went on to become jazz standards performed by leading artists such as Tony Bennett, Mel Torme, Frank Sinatra and many others.
A natural entertainer, Dorian Mode and his swinging band will take you through Jazz at The Movies, with lots of laughs and movie trivia along the way. The show is highly entertaining, peppered with fascinating anecdotes about the history of the songs and composers and lyricists and the artists who made these standards famous.
Dorian has performed shows to sellout crowds across the country – from Sydney's Independent Theatre, to sellout shows at the Gold Coast Performing Arts Centre. So let Dorian and his swinging band take you through Jazz At The Movies, where you'll hear such classics as: Charade, Days Of Wine And Roses and The Shadow Of Your Smile and many many more!
Dorian Mode is both a multi-award winning musician and writer of laugh-out-loud books: A Cafe in Venice (Penguin) and Mozart Maulers (Penguin) have been bestsellers here and in Europe while Dorian's been awarded three ABC Music Awards. He has recorded over seven CDs for such labels as EMI and ABC Jazz. And over the years has performed numerous jazz festivals, theatres and concerts including the Sydney Opera House. His entertaining shows are not to be missed!
Here's what the press have said about his music…
Mode's lyrics are pastel-hued and observations and gentle confessions. Swirling amid the sensitive playing are musically resourceful songs, overlaid with words containing poignant little stings, which suck you into Mode's very personal and satisfying vision – (John Shand) SYDNEY MORNING HERALD
Mode swings stylishly with songs that conjure up late night moods through their upbeat melancholy and seductive grooves – SUNDAY TIMES
Stephen Sondheim has observed that a well-crafted song is like a one-act-play, with a beginning, middle and end, and character development. It is an observation that applies beyond music theatre. Dorian Mode crafts songs to take the listener on a journey. They tell old stories of loves lost and hearts broken, but with individual quirks of perspective and imagery – (John Shand) SYDNEY MORNING HERALD
He shares a lot of characteristics with other jazz artist such as Vince Jones and Harry Connick Jnr; a sense of heritage and delivery that is somehow simultaneously warm yet cool, and the power to fill a room with a velvet ambience that enshrouds and engulfs – ON THE STREET
Cool album, big impact, from a great artist – SWING JOURNAL JAPAN
Cool voice, cool music, a cool jazz feeling that engulfs you – JAZZ LIFE JAPAN
His music can be described in one word: stylish! – AD LIB JAPAN
His effortless synthesis of influences and passion for producing accessible contemporary jazz belie a great gift – the ability to extend tradition without trying to impress. He is simply a natural. – NEW WOMAN MAGAZINE
Dorian Mode is unquestionably one of Australia's great jazz artists; a reputation that is only enhanced by the release of his third album 'Cafe of Broken Dreams'. Simply put, this is a brilliant effort and heartily welcome – SYDNEY NEWS CRITICS CHOICE
Let me know about special deals and offers
Be the first to know whenever we run a special deal or promotion by signing up below